---
In remembrance of a man of intense humanity, deep faith and warm relationships

Reflections on the life of Brother Philip Jean-Marc Lapointe
(As seen by his brother Jacques, Brother Maurice)

---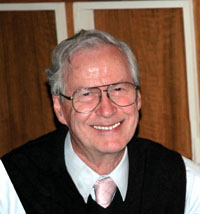 Bro. Philippe Jean-Marc Lapointe, 20 Oct. 1933 - 21 Dec. 2005

---
Brother Philip, known in the family as Jean-Marc, was born on October 20, 1933, in a small apartment the family rented in Lower Town of Ottawa. We still have a friendly discussion in the family about who saw him first in the early morning hours; my sister and I together or my older brother. From the very beginning, he was cherished and loved. No wonder he developed qualities of attention to others and tenderness towards them. Since my father had lost his job during the economic crisis of the 30's we still call the Great Depression, we were poor and could barely meet our needs. The Christmas gifts we had were the ones we received from our cousins when they had no more use for them. But I still remember vividly the first new gift we gave to our brother Jean-Marc. My mother had secured some economies by washing floors and other chores for well to do families and my sister had obtained a part time job. We pooled together our savings and bought our young brother a brand new toboggan. I still remember his joy and happiness. His capacity for gratitude was part of him early in life.

I had left for a boarding school with plans to become a De LaSalle Brother; my older brother followed me. When Jean-Marc, three or four years later decided to follow us, this was quite a shock for our mother. She respected our decision and told us we would always have a place with her if we decided to come back. Later, my older brother, Roger, left the Order and got married but Jean-Marc who had become Brother Philip and I stayed as De LaSalle Brothers.

Brother Philip spent his first active years teaching in the Ottawa region. When we are young and dynamic, we do not always, in the heat of action, analyze the way we do things. In retrospective, when today I look at those early years of professional activity, I see clearly that it was not the conveying of knowledge that marked him but the relationship he had with his students. Today, after 50 years, some still keep contact with him and have been doing so for years. In some cases, their parents, still alive, have a warm relationship with Brother Philip. This care for individuals, this yearning to go deeper than superficial relationships has been a characteristic of his life.

Without our knowledge, Brother Philip had given his name for missionary work. When he was asked to go to Japan in 1958, again my mother accepted this decision though it was painful for her. I am recalling those events because they explain what Philip became and the values in his life. His courage, a quality that I will mention later in this text, was inbreeded in him through such examples. Our mother, though petite physically, was a woman of courage and of deep spiritual values.

Japan was a blessing for Brother Philip. He immediately embraced the Japanese culture and was at ease with the people of his country of adoption. His first years were devoted to teaching, in Kagoshima. Again, it is not the teaching itself who made him realize his full potential but the relationship with his students, a relationship which developed and grew with time and became so rich and fulfilling.

Upon a visit I made to Japan in 1970, we had a surprised encounter in the train station in Kyoto. Brother Philip met a former student with his parents. I still have a vivid picture of the intense joy they all had to meet again. I understood then what so many of you wrote to me in their message of condolences: how deeply Brother Philip marked their life.

Later in life, when he left teaching to become in charge of the Brothers in Japan and following that to assume other administrative duties, he developed those friendship ties. They became very strong and were the occasion of reciprocal growth. We had many exchanges of correspondence, he and I, on this subject; I realized now, that these contacts which appeared to some as just social ones, were occasions of spiritual and human growth, of developing values of care, of understanding and of deep questioning. He not only accomplished himself through these contacts, through these weekends and holidays at Mikarino, but he touched people and helped them in a lasting way.

To leave Japan was not an easy decision for Brother Philip. This was heartbreaking for him more than some realize. On the one hand, though he had been involved lately in pastoral work in the diocese of Sendai, he felt that his main mission had in some way been accomplished: the initiatives he had created or started and that he had nurtured were coming to an end. On the other hand, he knew that what he had tried to instill in people was in good hands with his friends; they shared his values and wanted to pursue them in their own lives and to promote them. At the same time, he wanted to devote some time with his family and friends here. He thought he had in some way neglected them. My sister was now a widow, my brother Roger's health was a concern, he had nephew and nieces that he loved and that he wanted to help grow spiritually. He had friends that he wanted to relate to more deeply than by a superficial if friendly passing visit.

He needed courage in this decision and prayed intensively before reaching it. When he did, he told me that though it was difficult, he was at peace with himself and with his decision.

Brother Philip spent more years of his life in Japan than in his native country. He left Canada at the age of 25 and came back at the age of 71. Japan was home to him.

He would want me to thank you, all his Japanese friends for your care, your friendship, your love.

Though this remembrance eulogy is written with his Japanese friends in mind, I would like to mention that this kind of deep relationship he had with people transpired here also, with members of the immediate family, with cousins near and far, with friends. Some of them are still in shock and inconsolable. We are crying on one another's shoulder and trying to do things together to perpetuate his memory.

We are a close knitted family and among us, love for one another is a lived value. We therefore are deeply affected by this unforeseen and sudden departure.



Ottawa, Canada, December 26, 2005
Brother Maurice Lapointe





---

Notes


---


Brother Philip's body will be embalmed and on December 28, family and friends, especially those living nearby will come to pay his respect to him. His body will then be cremated. On January 6, in the evening, a vigil of personal prayers will be held in an atmosphere of meditation. A community prayer will follow. On January 7, a Catholic funeral service will be held in a local church in a parish where Brother Philip taught as a young De LaSalle Brother. Part of his ashes will be buried in the Brothers cemetery lot here in Ottawa but two urns containing his remains will reach a little later the Japanese soil, one for the Brothers cemetery in Tokyo and one for the Brothers cemetery in Sendai. Thus, his remains will go where he spent his life of dedication, love and prayer.

I am making some arrangements for this eulogy to be translated in Japanese language Brother Philip loved so much so that it may reach the greatest possible number of his friends.


–ÚŽŸ'Ö–ß'é
---
Since 2006 Jan 5th
---